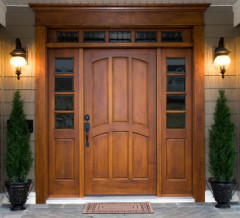 Slam the door too hard and shatter your decorative glass? Wake up one morning to find a dramatic crack running across the length of your patio door? If you own property in the Phoenix area and have recently become a prime candidate for door glass replacement, call  MDR Glass & Mirror. We can handle jobs of all kinds, from patio door glass replacement to interior door glass repairs. Whether you need professional attention to repair a single pane or require full door glass replacement, you will receive speedy service and quality work from technicians at the top of their trade. We can even perform custom door glass replacement to help you restore the effect of your uniquely sized or shaped door glass. Let our pros bring you the best quality when it comes to door glass repair and replacement!
Get Swift Door Glass Repair or Replacement
Seeking prompt door glass repair is vital in order to avoid a variety unfortunate circumstances, such as:
Injury due to broken glass
Inability to use entryway or other door
Making poor impressions on customers or guests
Compromised security
Prevent these issues from occurring and maintain complete control over your environment by seeking professional sliding glass door repair, patio door glass replacement, and other services. At MDR Glass & Mirror, our door glass company has more than 40 years of experience with patching chips and cracks, changing out glass panels, and more. Our expertise ensures that you will enjoy the same quality performance from your new door glass installation as you did before your door was damaged. It is our goal to make sure that your replacement glass looks as natural as the original and that all of your door's features will remain fully functional.
Contact Our Versatile Team for Whatever You Need
We perform door glass repairs and replacements on:
Storm doors
French doors
Patio doors
Sliding doors
Entry doors
Call or email MDR Glass & Mirror now to inquire about your particular door glass replacement need. One of our friendly representatives will let you know if our available services match your situation.
The dedicated technicians at our licensed, bonded, and insured door glass company are available to provide emergency services to attend to your urgent door glass installation and repair needs. We can also provide customers with a free estimate so that they can make an educated decision about their door glass replacement. Be confident that you are choosing the door glass company that is offering the very best value: get MDR Glass & Mirror on your side today.