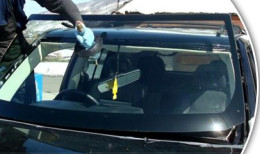 The road presents a lot of challenges: heavy traffic, detours, speed traps… why add to your stress by operating an unsafe vehicle? It is vital to keep your car in excellent condition so you can be as prepared as possible throughout your many travels. When most people think of vehicular maintenance, they tend to consider under-the-hood adjustments like changing the oil, but maintaining your auto glass is also critical to ensuring your safety as you cruise down the highway. That's why in addition to residential and commercial glass services, MDR Glass & Mirror also offers windshield repairs. We can handle projects of all magnitudes, from cracked windshield repair to chipped windshield repair to complete auto glass replacement.
Windshield Repairs for Vehicles of All Kinds
While some of our competitors only perform windshield repairs on common makes and models, MDR Glass & Mirror is proud to service any vehicle on the road. This even includes specialty vehicles like RVs, commercial vehicles, and construction equipment.
We Go the Extra Mile for You!
If your vehicle requires windshield crack repair, we will use the finest tools and strong epoxy resins to fill in the troubled areas, leaving your windshield strong and smooth. If you require a new windshield, we will find the perfect replacement glass that will bring you the same great performance you enjoyed back when you first drove your car home. Our windshield repair professionals will even go the extra mile to obtain hard-to-find glass for rare vehicles, so if you have an older, foreign, or unusual vehicle, contact MDR Glass & Mirror. We use only the highest quality products and put our more than 40 years of experience to work for you. Our goal is to bring you strong, sturdy windshield repairs that can withstand the abuse of the road, look great, and keep you safe.
Affordable Windshield Repair & Replacement
At MDR Glass & Mirror, we are not out to make money off of your misfortune. If you need auto windshield repair because of a recent accident, act of vandalism, or random piece of flying gravel left you with damaged glass, we're here to make sure that your vehicle receives the treatment that it needs. We work closely with insurance companies to make sure that you get the highest quality auto windshield repair possible without having to pay exorbitant fees.
Fast, Convenient Service
When it comes to windshield crack repair, prompt action is vital. Even the smallest imperfections can be serious threats to your windshield's stability. Something as minor as a pothole, a sudden change in temperature, or even engaging your wipers could spell disaster for an already compromised windshield. Interruptions in your glass can also compromise visibility. Make windshield chip repair a major priority to keep your vehicle in good repair and as safe as possible. Be proactive and stay on top of your auto glass maintenance. A strong windshield means a safer vehicle all around—and, catching a problem early can even reduce your total windshield repair cost.
MDR Glass & Mirror offers free mobile service for car windshield repair and strives for same-day results so you can have your vehicle back on the road fast. If you've been driving around with little dings, nicks, and cracks in your windshield glass, or you have been forced to take your vehicle off the road due to major damage, contact our windshield glass repair professionals today. We serve vehicles throughout Phoenix and the Valley area and can even offer you a free estimate on your windshield repairs.